anew_webinar_sept_2023_2.png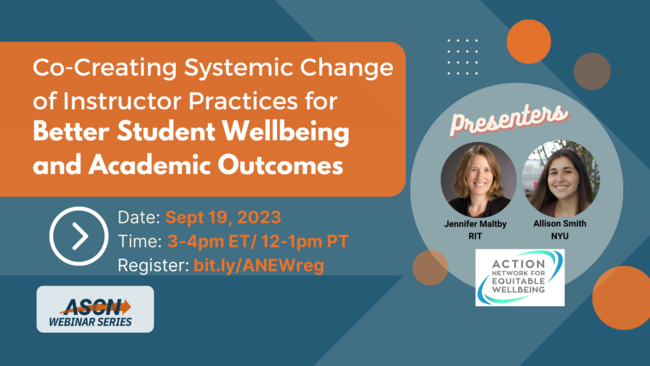 View Original Image at Full Size
Two white women, Jennifer Maltby and Allison Smith, are advertised as speaking about the network for equitable wellbeing on September 19.
Originally uploaded in Accelerating Systemic Change Network:Events:Webinars:2023 Webinars:Co-Creating Systemic Change of Instructor Practices for Better Student Wellbeing and Academic Outcomes.
Image 271337 is a 900 by 1600 pixel PNG
Uploaded: Aug25 23
Last Modified: 2023-08-25 13:06:39
Permanent URL: https://serc.carleton.edu/download/images/271337/anew_webinar_sept_2023_2.png
The file is referred to in 1 page
Provenance
Casey Wright, Western Michigan University
Reuse
This item is offered under a Creative Commons Attribution-NonCommercial-ShareAlike license
http://creativecommons.org/licenses/by-nc-sa/3.0/
You may reuse this item for non-commercial purposes as long as you provide attribution and offer any derivative works under a similar license.